SABA provides a number of easy, practical and cost effective elements all designed to provide a reliable chain of documentation and representative samples to enable suppliers to minimise costs associated with bunker quality claims and to either successfully reject a false claim or quickly and cost effectively deal with a quality problem and, if appropriate recover costs from third parties.
SABA may also reduce insurance premiums, give customers confidence and help retain and increase business.
Last but not least, SABA will also provide suppliers with full coverage of Marpol requirements : Sampling, Test certification, Documentation and Audit Trail.
Key Elements of SABA®
1. Sampling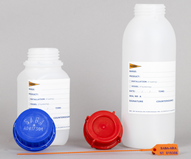 As a SABA member, you will receive bottles, seals, labels sufficient to collect 2 0,5 liter samples for each barge loading and 4 for each barge discharge.
Sampling devices however are to be provided by supplier or barge and approved by SABA.  Barges must be fitted with a reliable manual or automatic, tamper proof sampler which can be used during barge loading and discharge for each type of fuel. The sampler must be capable of collecting minimum 5 liter bulk sample or an identical 0,5 liter sample. These samples must be taken for every receipt and delivery.
Periodic audits will check operation & use of samplers.
2. Documentation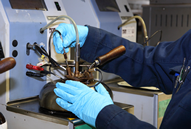 SABA will provide documentation packs to be used for every discharge and barge loading. Records will be held of barge tank contents before and after loading and after discharge, records of samples taken, seal numbers and distribution and records of ship's sampling method and samples.
3.Training and Instructions
SABA will provide training for members (suppliers) and barge crews and issue work instructions for barges: all operations staff of members will receive a 1/2 day training course on bunker operations and the SABA process. Barge staff will receive "on board training" when required.
Barges will receive durable, plastic coated instruction sheets and a SABA flag for mounting on board.
To ensure barges are following SABA procedures and to give additional training where needed, periodic audits of barge compliance will be made at random.
4. SABA® Testing
Two samples from each barge loading and discharge will be picked up by SABA staff:
SABA will retain both samples from each loading or discharge.
One sample from each loading and discharge will be routinely tested. SABA members can request individual tests on any of their retained samples at discount on normal commercial testing fees.
Test Results will be continuously on line available from the SABA Website. Data will of course be password protected. All samples will be retained by SABA for 3 months and then destroyed unless they are needed longer.
5. Support and Expert advice
The SABA team of expert chemists, fuel technologists and marine engineers will be on hand to give prompt support and advice on analysis results and dealing with claims and disputes. SABA experts will provide up to 8 hours free consultancy and support to members in any 12 month membership period. This may include verbal and written advice, technical reports, local ship visits and meetings. Additional days would be billed on agreement with the member.
As an overview, here's a summary of services provided to members:
Sampling kits (bottles/seals/labels/cubitainers/cartons and instructions)
Training
Random barge audits
Collection of samples and retention and destruction.
Key point testing
On line test results
Expert advice/support
Membership Fees
The annual SABA membership fee will be based upon the volume of member's business. The SABA membership fee structure is designed to be proportional to member's sales. Both large and smaller suppliers receive the same protection and risk reduction.
Quality Management System
We have used the SABA sampling and testing programme for many years and have now incorporated the process into our Quality Management System
Certified to ISO 9001:2015